Description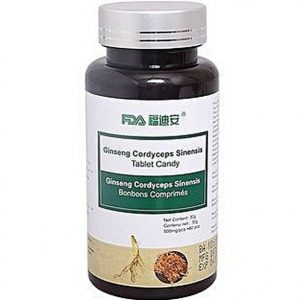 Ginseng Cordyceps Tablet is a Norland product, which is a combination of ginseng and Cordyceps herbal extracts.
Ginseng root has being in use in Asia for centuries to lower blood sugar and cholesterol levels, reduce stress, promote relaxation, treat diabetes, and manage sexual dysfunction in men.
Cordyceps have being in use in the Orient to improve immunity, fight cancer cells and shrink tumor size, particularly with lung or skin cancers
Ginseng Cordyceps Tablet functions
This following are the functions:
Improves immunity
improves sleep quality
Deals with weakness and fatigue
It is anti inflammatory, anti cancer, anti tumour
This product is great for people with diabetes and cardiovascular problems.
It is a blood Purifier as well as a herbal antibiotics
helps digestion
This product is a herbal supplement for effective and permanent treatment of Erectile Dysfunction and other discomfort in human body.
GINSENG CORDYCEPS SINENSIS: Treats stubborn Staphylococcus, Gonorrhea, Syphilis, Vaginal itching, Vaginal discharge, Vaginitis, (Bacterial Vaginosis) weak erection , Quick ejaculation, Sexual transmitted disease naturally without chemical orthodox drugs that makes you to keep treating infection monthly
visit our norland store for more products
visit the makers website